Spring 2021 CCC Schedule – Remote Version!

For the spring semester, the Chemistry Contact Center will operate via Zoom using the schedule below.  The CCC space (MG3090) will NOT be open for walk in, face-to-face meetings with faculty.  All faculty will use the same Zoom link, listed below.
https://zoom.us/j/95541875700?pwd=cWlsdTdhblpHYXFqQ2RGeS91bHVMQT09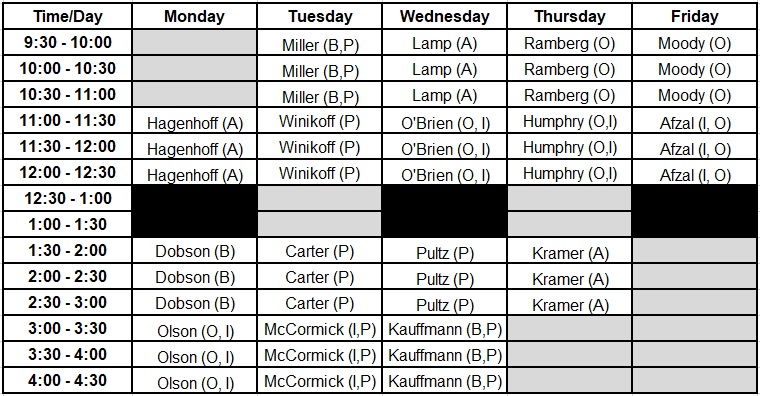 The purpose of the Chemistry Contact Center (C3) is to help all chemistry students, although it is primarily directed toward students in 100- and 200-level courses. It is your opportunity to get help from faculty members outside of class and normal office hours.
You should be aware that the faculty are there to assist you, but they will not just give you the answer, nor will they answer direct questions from take-home exams, graded homework, or extra credit assignments. However, they will always be happy to help you understand the underlying concepts.  Help us help you by bringing your book and any other class materials (your notes, handouts, etc.) to the C3.
Each chemistry professor welcomes students seeking assistance in the introductory chemistry courses  (CHEM 100, CHEM 129, CHEM 130, and CHEM 131),  Because the upper-level courses are somewhat specialized, you may want to see someone who has intimate knowledge of the content and format of a specific upper-level course.  Faculty who have in-depth knowledge of these courses are indicated in the table above as follows: A = quantitative and instrumental analysis, B = biochemistry, C = chemical education, G = general chemistry, H = history of science, I = inorganic, O = organic, and P = physical).